Animals are incorporated into research, teaching or outreach only after the proposed program has been approved by an ethical evaluation that balances benefits against harms. This assessment is the responsibility of an institutional animal care and use committee, or IACUC. However, our responsibility for the animals does not stop there: when we agree to study animals we also must take responsibility for their care. More than 4,000 people — including animal caretakers, veterinarians, veterinary technicians, researchers and research staff, program support staff and students at all levels, each certified and trained for their specific role — are involved in the university's program, and we meet the obligations of good stewardship in a variety of ways.
Environment
First, animals must be provided with an environment that meets their specific species-associated needs. This includes room temperature and humidity settings, size and construction of cages or pens, bedding or litter, and environmental enrichment. They also are provided with food, water, and sanitation. UW–Madison spends almost $25 million each year on food, bedding, housing and salaries to support the care and well-being of its research animals. Dedicated animal care staff meets these responsibilities, and follow-up is conducted by supervisors, veterinary staff, and the IACUC.
Veterinary care
Animals also need to be examined every day, sometimes more than once, to evaluate the status of their health. This monitoring is conducted by animal care staff, veterinary staff, and research staff. We have a reporting system to ensure that veterinarians are notified about all animals that require additional monitoring or medical treatment.
Adherence to protocol
Next, the University ensures that all animal manipulations or treatments are described in an IACUC-approved animal care and use protocol. Compliance is a shared responsibility of all members of the animal program, and is assessed both by regular and unannounced visits to animal areas.
Oversight
Finally, all aspects of animal care are evaluated by regulatory organizations unaffiliated with the University, including the United States Department of Agriculture (USDA), the National Institutes of Health's Office of Laboratory Animal Welfare (OLAW), and the Association for the Assessment and Accreditation of Laboratory Animal Care, International (AAALAC), an independent accrediting agency. Collectively, these groups and the University make certain that our stewardship responsibilities to animals used in research, teaching, or outreach are fulfilled.
For more detailed information on animal care, read "Defining the Animal Care and Use Program," published in the journal Lab Animal by Eric Sandgren, former director of UW–Madison's Research Animal Resources Center.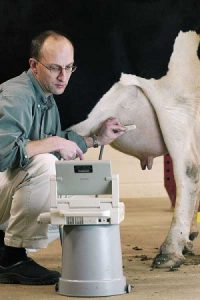 Hundreds of animal care specialists work to ensure the well being of research animals at UW–Madison, making sure animal studies comply with federal law, remain safe and ethical, and answer important scientific questions.